Welcome to the website of Babette Rothschild, M.S.W., body-psychotherapist and specialist educator in the treatment of trauma and P.T.S.D. She is the author of (among others) the bestselling, The Body Remembers, Volume

1

& Volume 2, as well as creator/editor of the 8 Keys Self-Help Series, all published by W. W. Norton & Co.
ORIGINAL ADVANCE IN ANS OBSERVATION AND APPLICATION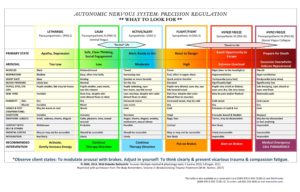 The new and original 6-column table, above (click on it for full size view), contributes a more nuanced and user-friendly understanding of the Autonomic Nervous System, including integration of recent theories of Peter Levine and Stephen Porges. Discussion of its principles and applications is detailed in Chapter 2 of The Body Remembers, Volume 2. A copy of it is included as a full color insert in the book and is also available separately as a laminated card or large poster, both available from WW Norton as well as Amazon and all online book sellers around the world.
————————————————————————————————–
It is my intention for this website to be helpful, very easy to navigate, and pages quick to load and print. I welcome your feedback about the content as well as on how to make this site more useful to and useable by you. If there is any information you would like to see here, let me know and I will add and update when and as I am able.
Babette Rothschild is the author of 6 books, all published by WW Norton & Co., including the bestselling The Body Remembers series. She travels the world giving professional lectures, trainings and consultations. She can be reached through her website, www.trauma.cc and by email at babette@trauma.cc or babette@sttwork.com